After the Indian government banned TikTok, a number of homegrown video apps have surfaced which include Mitron, Chingari, Roposo, and more. There is a sudden surge to fill the void caused by TikTok's unexpected ban in the country. The latest alternative to TikTok is Instagram Reels which got recently launched in India. Reels has a similar short-video format and it's integrated within the Instagram app. You just need to move to the search window and you will be presented with Reels content. So to check whether Reels has the promise to replace TikTok, we have come up with this in-depth analysis. In this comparison between Instagram Reels vs TikTok, we take a look at all the major features, privacy issues, content reachability, and more. So without further ado, let's begin.
Instagram Reels vs TikTok: A Comprehensive Analysis
Unlike TikTok which is available across the globe, Instagram Reels is currently available only in four regions: Brazil, Germany, France, and India. Here, we have primarily discussed the topics in the context of India because of the recent TikTok ban in the country. With that out of the way, let's go through the article.
Features
The Missing Pieces
Privacy
Democratization of Content
Features
Before anything, we need to discuss the features of Instagram Reels and see if it's comparable to TikTok. First off, the UI on Instagram Reels is pretty similar to TikTok. You can swipe up and down to quickly move from one video to another. Further, you can create videos of up to 15 seconds on Reels in comparison to TikTok's two options: 15 and 60 seconds. By the way, the majority of videos on TikTok have a length of 15 seconds so that is smart on Reels' part to just keep the shorter video format.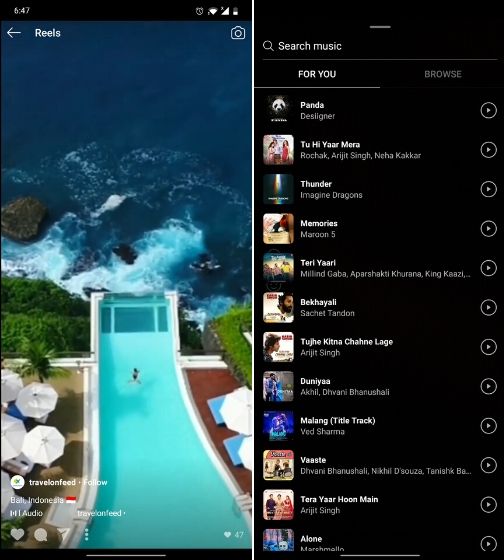 There are also tons of AR effects on Reels which looks and behaves very similar to TikTok's Effects. And if you want to create slow-motion videos or increase the motion then you can do so on Reels, just like TikTok. The best part about Reels is that it has managed to bring a huge library of in-app music to creators.
TikTok was wildly popular for its soundtracks and Instagram Reels also follows the same path. In fact, you can add a particular part of music using lyrics and it works pretty well. Basically, you will be able to create great lip-syncing videos on Reels. Not to mention, just like TikTok, you can also add a 3-sec timer before recording a clip on Instagram Reels.
These are pretty much the features that are common on both Instagram Reels and TikTok, but what about the missing features? Here we take a look.
The Missing Pieces
While Instagram Reels has done a good job of bringing the basic features, but there are some major omissions for which TikTok was quite popular. For instance, you don't have the widely used Duet feature on Reels. Neither, do you have the React feature?
Both these features are collaborative in nature and help creators make new content with interactive sound and lip-syncing elements. So if you were regularly using these features on TikTok then Reels will disappoint you, at least for now.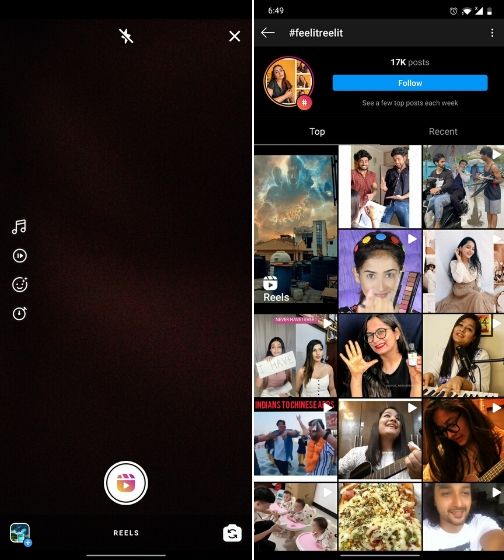 Apart from that, there is no dedicated search or discover page on Reels. For many new creators on TikTok, the Discover page used to help them find new challenges and trending hashtags.
Currently, Reels does support hashtag but it's integrated with Instagram and throws mixed results from both regular Instagram posts and Reels videos. It seems Facebook is trying to unify Instagram and Reels, but whether it will work or not, will be left to be seen.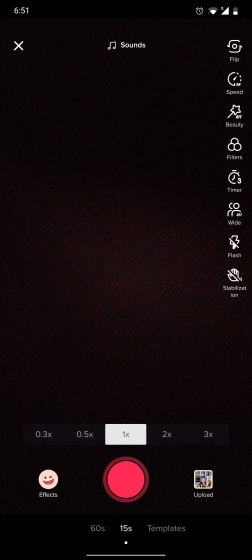 Furthermore, there is no dedicated Following tab on Reels, unlike TikTok where you could watch all your favorite creators under one separate section. Moving ahead, the video editor on Reels is pretty barebones right now, in comparison to TikTok's advanced editing tools.
You don't have video stabilization or support for a wide-angle lens; there are no filters, beautify tools, or background Templates on Reels. Considering all the points, I would say, Instagram Reels gets the basics right, but it misses out on many social features that make TikTok what it's.
Privacy
Since Reels is integrated with Instagram, there is a foundational difference in how the app works as compared to TikTok. If you create a new account on TikTok, your account is set to public, by default. However, on Instagram, all accounts are set to private by default which by extension applies to Reels too.
It essentially means that your Reels content will be private by default which is a good thing. Keep in mind, if you intend to make your Reels content public then you can't do so. You will have to set your Instagram account to the public which is something I would not recommend.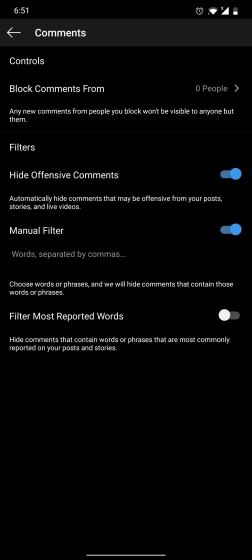 Apart from that, similar to TikTok's filter tool, you can filter out offensive comments on Reels. There is also an option to manually filter comments based on keywords and phrases. Talking about data security, well, Instagram Reels is owned by Facebook. It does not have a history of hobnobbing with government agencies– unlike TikTok, which has been alleged to have an illicit connection with the Chinese government.
However, you can't overlook the many privacy scandals that have rocked Facebook in the past few years. I would recommend you to tighten your privacy settings on Instagram Reels to be on the safe side.
Democratization of Content
We all know that TikTok brought a cultural shift, at least in India, and spearheaded a content revolution that started from rural towns to urban cities. TikTok made its app available in more than 14 Indian languages including Hindi, Gujarati, Marathi, Bengali, and more.
Further, the company invested millions on content creators, storytellers, artists, educators, and performers in India itself. It essentially led to the democratization of the internet and bridged the gap between advertisers, brands, and creators.
Now that TikTok has been banned and Reels is trying to fill the shoe, we expect Facebook to show similar commitment towards content creators. According to this report, the company has signed some of the TikTok creators to create new and entertaining content on Reels which is a great start.
That said, Instagram Reels is currently available only in Hindi as far as Indian regional languages are concerned. We hope that Instagram improves Reels and makes it accessible to all kinds of users.
Instagram Reels vs TikTok: The Showdown
In this comparison between Instagram Reels vs TikTok, we went through some common features, privacy issues, the missing features and discussed the reach of content. It's clear that Reels has got the basics right to begin the journey in India, but lacks some major features which were very popular on TikTok.
Other than that, I would have loved Reels if it was available as a standalone app and not integrated with Instagram. It would have been truly a social video app like TikTok. Nonetheless, it would be interesting to see how Facebook projects Instagram to entice regional creators and audiences. To sum up, Instagram Reels is a promising alternative to TikTok and you can give it a try.